WELCOME TO OUR WEBSITE

We are one of the leading trading companies in the Sultanate of Oman, since 1984. We have been in the forefront in the field of Agricultural machinery and professional Lawn and Garden care equipment.

READ MORE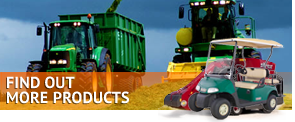 OUR PRODUCTS & SERVICES
Our area of specialization could be broadly classified under the following categories:

Agricultural tractors and farm equipment.
Lawn and garden care equipments.
Golf course equipments
Electric / LPG / Gasoline Golf carts.
Stationery and mobile crop protection chemical sprayers.
Utility vehicles.
Fertilizers.
Green houses.
KNOW MORE
OUR VISION AND MISSION
Our vision is to be the best agricultural, turf care, garden and golf course machinery suppliers in the Sultanate of Oman.

Our mission is to build a sustainable trading business that will contribute to the local economy, and Provide a high level of quality, commitment and customer satisfaction.
OUR VALUES
Integrity, honesty, fairness and transparency in all dealings.

We provide the best value to customers through c
ontinuous improvement industry leading
performance.

Honor its commitment.

We treat each other with trust, respect and dignity.